Personalize your own merci product cover
A unique way to show your appreciation: a personal merci product cover that you create yourself.
Cover Editor enables you to create and print your own merci cover. You alone are responsible for the content transmitted (e.g., photo or text files). You specifically warrant that (i) the content transmitted does not infringe third-party rights including, without limitation, patent, trademark, trade secret, copyright, publicity, privacy or other proprietary rights), (ii) you have obtained all required consents to the content transmitted and, without limiting the generality of the foregoing, the content transmitted must not contain any reference to or likeness of any identifiable third parties unless consent has been obtained from them (and their parent/legal guardian if they are under the age of majority in their jurisdiction of residence); (iii) the content transmitted does not contain any imagery or other content associated with a competitive product and (iv) the content transmitted is not unlawful, threatening, abusive, defamatory, libelous, deceptive, fraudulent or tortious and does not contain explicit or graphic content, does not victimize, harass, degrade or intimidate any individual or group or otherwise contain any content that is or can be considered to be inappropriate, unsuitable, objectionable or offensive, all as determined by Storck in its sole discretion, and you shall indemnify Storck and hold it harmless against any and all liability and third party claims in connection with or arising out of the content transmitted.
Begin by choosing the size of your box and then the desired design:
Choose your favorite design and add a message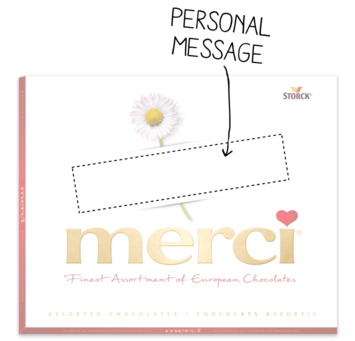 Choose your favorite design and add a message.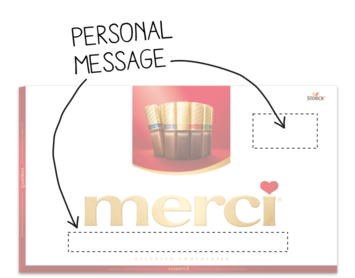 Choose your favorite design and add a message.